People Weigh in on Charter School Application, Dismissals and Managed Homeless Camp Project
Each week, we highlight some of the most insightful, passionate and witty comments shared on Facebook in response to stories in The Herald of Durango.
This week, readers weighed in on Durango School District 9-R's denial of Ascent Classical Academies' charter application, La Plata County's decision to terminate the contract for a homeless camp run between l 'US Highway 160 and Lightner Creek and so the bumps have evolved from necessity to luxury.
We welcome readers' comments and reactions to local stories: people can have their say by writing a letter to the editor, through our Facebook page or at the bottom of local news at www.durangoherald.com.
Here are some comments that stood out this week:
History: Durango School District 9-R Denies Ascent Charter Application
Durango's 9-R School District voted against Ascent Classical Academies' charter application after three weeks of review. (Courtesy of Durango 9-R School District)
"There must be different 'flavors' of public schools that parents/students can choose from. I am forever grateful that BHS has Wolverine Academy. All public schools need to have more ways to teach and more options to choose from so they can meet individual needs. The unique situation we cling to is proving increasingly unsuccessful for students, parents and the community. – Aeron Metzger
"Aeron Metzger, Wolverine Academy is not religiously based, however. That's the difference. Ascent Academy attempted to receive funding for a charter school with a religious curriculum. – Emily Austin
"Aeron Metzger, Durango has DHS, Elevation within DHS (like Wolverine Academy), Gateway (also within DHS), Animas, Big Picture, GOAL, and Colorado Connections. They have way more options than Bayfield. Why doesn't Ascent go through Bayfield? Over 50-60% of the interested parties I've seen are based in Bayfield, not Durango. – Lindsay Hayden
"I am a moderate/leftist atheist homeschooling parent. Having more educational options is a good thing in my opinion, but the classical model of education is rooted in Christianity and tends to be exclusive and omit the experiences of marginalized people. I don't know how Ascent specifically handles and addresses classical education, as there are variations. But I didn't see anything that convinced me they would be inclusive, when asked they were quite vague. I think 9-R needs to explore charter options or maybe even just improve the schools we have. I support Ascension's refusal. – Katrina Christensen
"9-R is spending north of $55 million on upgrades to Miller Middle School (needed) and DHS (unnecessary cafe and open space where no educational benefits will be derived). I'm glad to know that there is an oversight committee, but while everyone agrees with the proposed (over)budget, the oversight committee is not doing their due diligence. There should be some dissent even in the nicest committees. Government and public school employees and boards forget that they work for "We the People". Many families who support charter school are already home schooled, they are simply looking for an alternative to help their children. This charter school has already been approved in other areas of Colorado. The 9-R board of directors wasted tens of thousands of dollars without even following its own Ascent Classical Academy review policy and clearly never gave this process any real review. It was all about dollars lost by the school district and never about the children they are elected to support. – Diana Blunt Snodgrass
Story: Commissioners to vote on exit from managed camp contract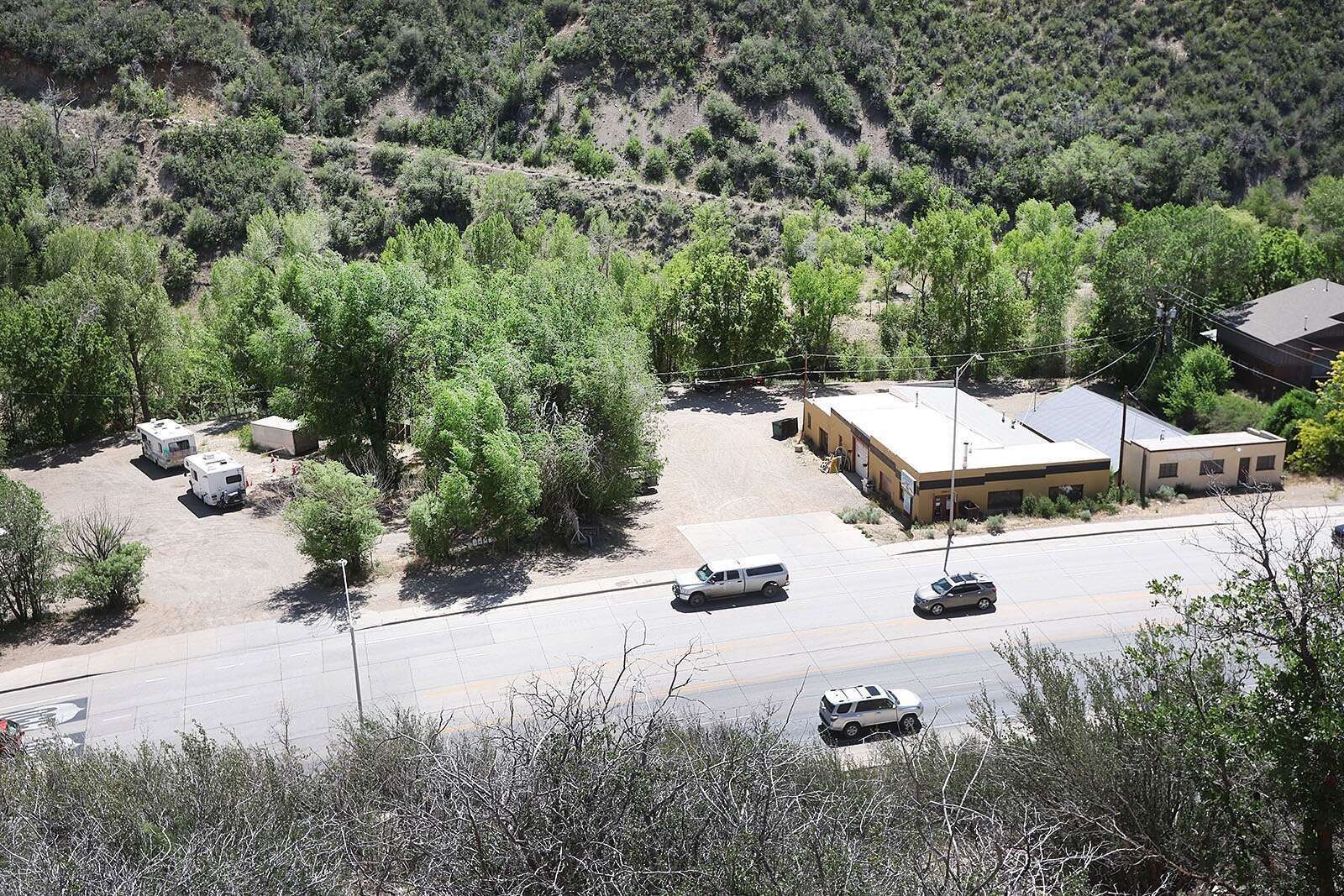 La Plata County proposed to construct a managed homeless camp between US Highway 160 and Lightner Creek on these four properties. County staff members recommended that the commissioners terminate the agreement to purchase the properties. (Jerry McBride/Durango Herald)
"To blame our problems on someone else is not a solution. It's just kicking the box on the road. It is a national problem. The housing market in Durango is abysmal, costs have skyrocketed and inflation has reduced incomes to less than pre-pandemic wages. Homelessness is a choice for some, but this run camp is not for those people. It's for people who live in their car, go to work every day, while raising two little girls. The comments in this feed are exceptionally arrogant and apply to perhaps 10% of the over 80 individuals who live in this camp. It's our job as citizens of this county to find workable solutions, not fantasy. Not to mention the county already spends a ton of money caring for the homeless. Between law enforcement, social services, mental health services, food banks, etc., the cost to taxpayers would be greatly reduced if these residents could move into a managed camp. Cities like LA, Houston, Denver, etc., have already laid out a plan to make this work. Durango residents must step up and do their part for our community. Starting with the people who need the most help. – Wood Colby
"Steve Smith, I agree. Some of them are working and even trying to improve their situation. Spending money to improve the Purple Cliffs site for camping and a secure connection to Bodo seems reasonable. N 'don't go too far though. I don't want this to become a magnet for more homeless people to move here.' Pat Antonio
Story: How bump-outs went from necessity to luxury
Colin Carver, co-owner of Carver Brewing Co., talks to customers Ken Shapley, left, and Robert Shapley on Tuesday as they dine in the bump in front of the restaurant. The debacles were a strong jolt for the city of Durango that led it to explore a new vision for public space on Main Avenue downtown, said Tim Walsworth, executive director of the Business Improvement District. (Jerry McBride/Durango Herald)
"Yes. Make the city center a pedestrian street. Then rent the space to interested people. – Matt Yoder
"Matt Yoder, no way. What about all the people who live downtown full time? We already have to fight for our own designated parking and living spaces. – Stefie t-shirt
"Stefie Tee, good point! Of course, a parking structure must be built, preferably underground. Or there could be a reserved space system for residents on Main. I'm sure a solution could be found to this problem. – Matt Yoder
"I wonder if the Durango BID has its head in the sand? First, many business owners hate layoffs. They take away the historical aspect of the city. Second, I get the issue of restaurants needing better seating, but why does Maria need a boost? Why Outdoorsy…the rug place? They just take parking spaces, which brings me to my third point. Parking was disrupted. We avoid downtown. For those who have difficulty walking, this is a huge problem. – Betsy Shryock Kastak