Sleeping on the ground does not make every camper a happy camper. Or even the happiest of tent campers sometimes like to change up their routine. So, spending a few nights at one of these fun spots will spice up the experience, provide great photo ops, and make "roughing it" less difficult.
Here are five options for camping – or "camping" – in style this summer:
1. Jellystone Park Glamping Cabins
Caledonia's Jellystone Park is just 20 minutes from Milwaukee and offers four different types of cabins that are cute, rustic, and modern. The comfortable basic Boo-Boo cabin can accommodate six people; the Cindy Bear seats eight; the Yogi Bear Deluxe also sleeps eight but has three separate bedrooms and our favorite, the glamping cabins sleep seven but have an open concept kitchen with full sized appliances, large screened porch (goodbye, bugs!), a private bedroom with a queen bed and a three-story bunk bed. Go here to book your cabin.
2. Camp Wandawega Vintage "No-frills" Cabins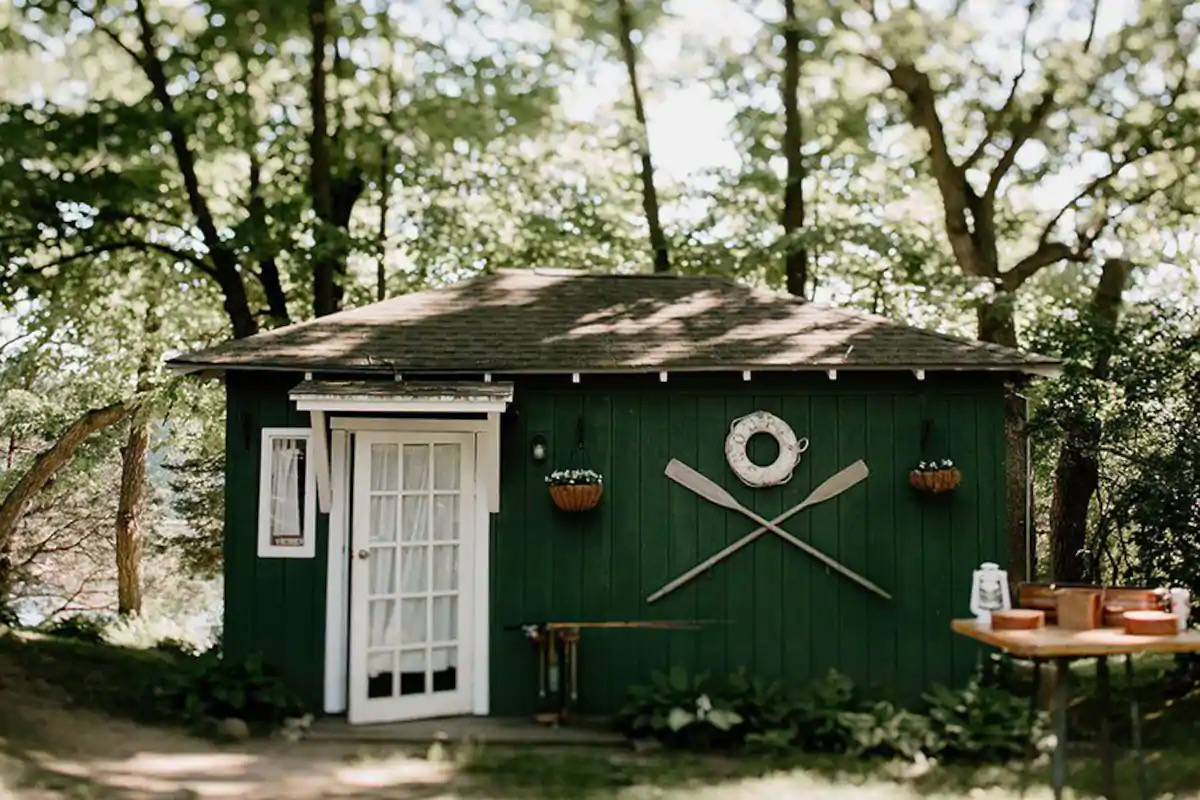 Camp Wandawega, located in Elkhorn just 45 minutes from Milwaukee, offers a variety of unique accommodation structures. Side-by-side vintage cabins overlook the lake and wetlands. The green cabin can accommodate up to four people, but is best suited for two or three. The white cabin can accommodate a couple. Camp hosts want guests to know "By 'vintage' we mean old and unimproved. It's not a modern luxury joint designed to look old: it's just plain old. That's how we like it, but it's not for everyone. Interest piqued? Go here to book.
3. Perry Pines Yurt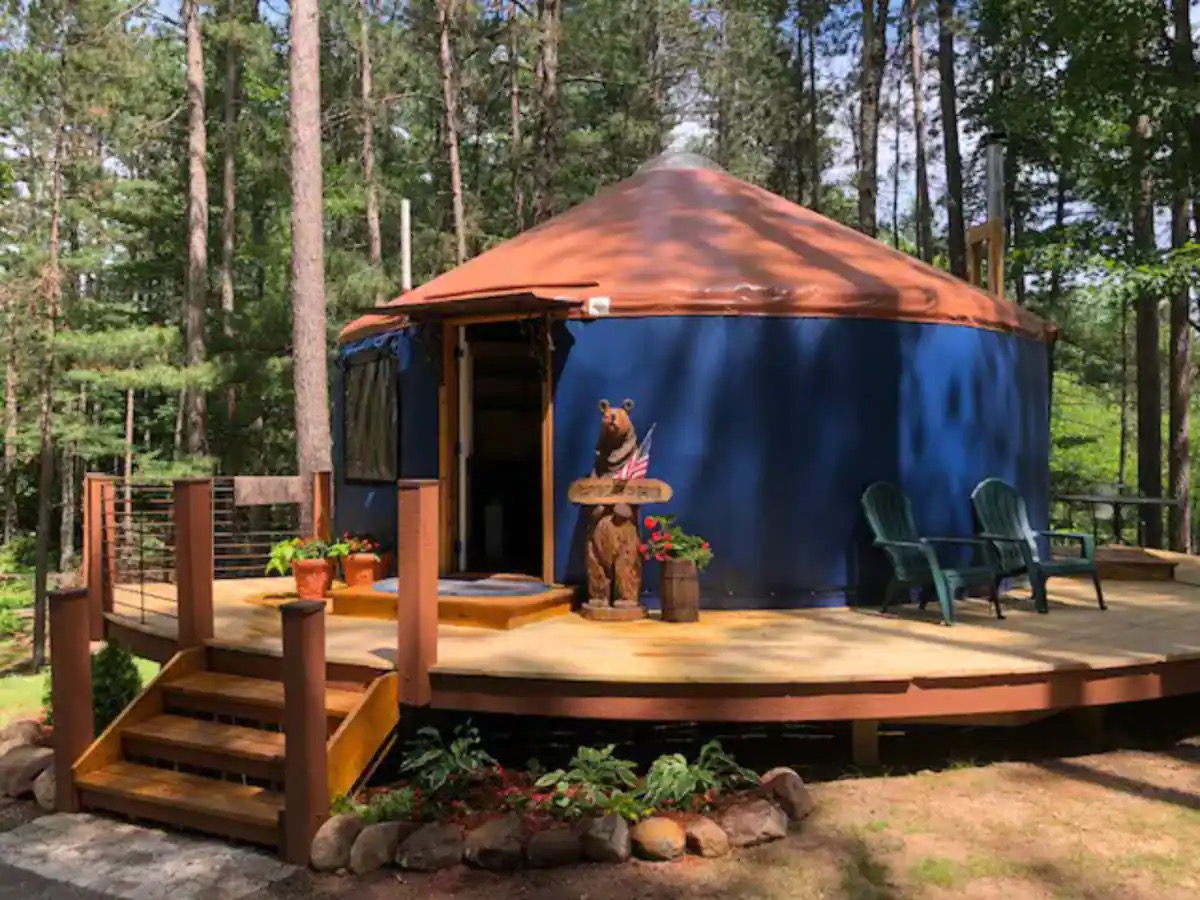 The Perry Pines Yurt in Cable, Wisconsin (5.5 hours from Milwaukee), is the ultimate romantic getaway for nature lovers. It is available at any time of the year (for comfort in winter there is a wood stove and an outdoor sauna and it has air conditioning for summer). This upscale yurt sleeps two and features a full kitchen, bedroom, loft, porch, fire pit, SmartTV, and Wi-Fi. It is nestled in the pines and overlooks a lake. Check it here.
4. The Black Hawk Retro Motel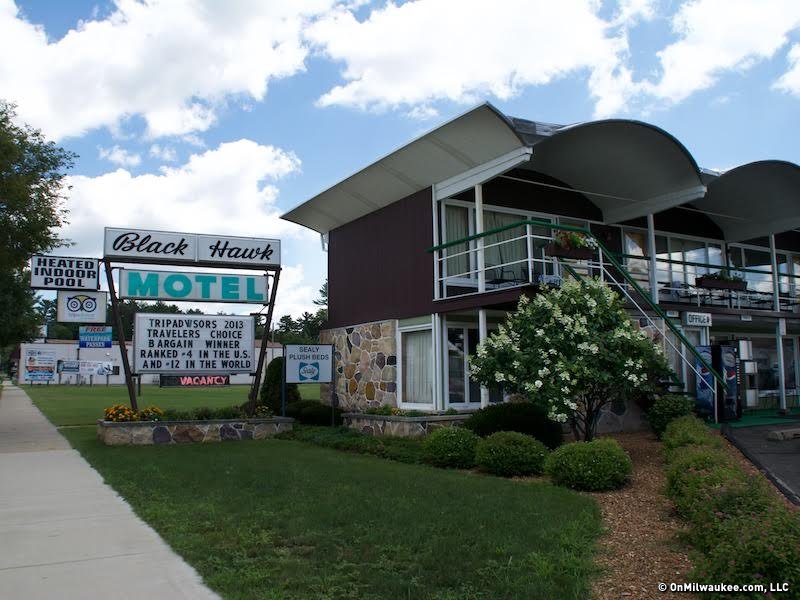 Want to take it indoors to sleep but with plenty of outdoor options during the day? The Black Hawk Motel offers 79 units and 29 different room types, but the most notable building is the mid-century structure — just off Highway 13 in Wisconsin Dells. Built in 1961, it's been preserved to fulfill every dream of space-age living with 10 tidy little rooms where modern amenities meet nostalgic elements, including rare three-foot-long soaking tubs. Guests have access to an outdoor and indoor pool, hot tub, two playgrounds, a retro game room, and free entry to numerous water parks. More info here.
5. City camping at Decadent Dreamz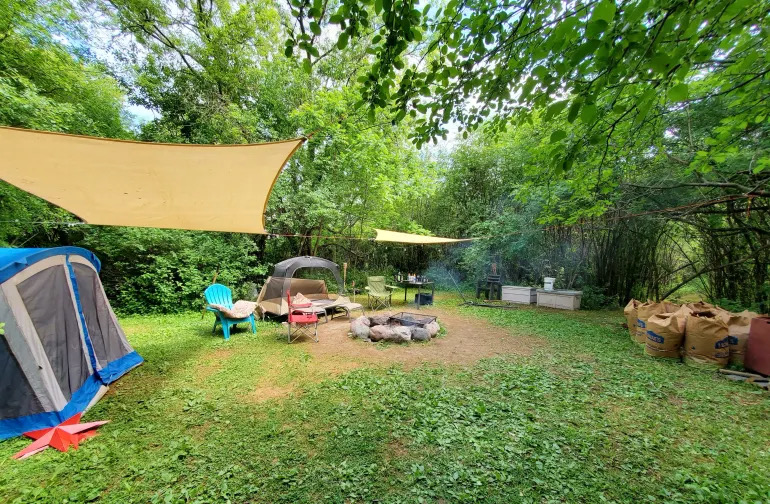 Camp in the city of Milwaukee at Decadent Dreamz, 10807 W. Bobolink Ave. Five pet-friendly sites are available for 8+ people. Guests can enjoy country living with campfires, hikes through a wooded maze of trails, grilling, and games on site. They can also enjoy the city's nightlife by visiting nearby bars or restaurants. The campground provides designated drivers and campers with the option of renting a tent already erected with all necessary camping necessities. Get more details here.